Feed
$42.95
Wild Fed Horse Feed
A whole foods based complete horse feed made from grasses, grains, seeds and herbs. Due to the nature of this product, shipping is not available. You can pick up in store or if you are not near a dealer that carries Wild Fed, you can order a sample bag and contact us or Wild Fed directly to get it in a store near you.
WILD FED HORSE FEED IS…
FREE OF CORN
Corn is high in Omega 6's, low in Omega 3's
Omega 6's are inflammatory, Omega 3's are anti-inflammatory
Eating corn promotes inflammation in the body
Corn creates an acidic stomach pH
Acidic pH creates a more hostile environment for the beneficial or "good" bacteria and a good environment for the pathogenic or "bad" bacteria
FREE OF SOY
Many feeds include soy which, is not only a food that horses would never naturally eat but it also contains natural toxins and anti-nutrients:
Soy contains enzyme inhibitors that disrupt protein digestion
Soy contains haemagglutanin which promotes blood clotting
Soy contains goitrigens that can contribute to the formation of goiters, which older horses are particularly susceptible to developing
Soy is high in phytates, which bind certain minerals such as zinc and calcium, making them less absorbable.
FREE OF SWEETENERS
Sweeteners such as molasses are a by-product of the sugar industry and are added to feeds to make them more palatable. Horses, like humans, are susceptible to sugar dysregulation disorders and should avoid refined sugars or any additional sugars in the diet. Refined sugars have been stripped of some of their nutrient values during processing and actually steal nutrients from the body in order to be utilized.
FREE OF INDUSTRY BY-PRODUCTS
Soybean meal, wheat middling's, peanut hulls, dried beet pulp and rice bran are all by-products of other industries and are an inexpensive way to add bulk to feeds, but are not foods that horses would naturally eat. They lack the full spectrum of nutrients required by horses. Additionally, many of these feedstuffs are inflammatory, difficult to digest, and high in sugar and starch.
FREE OF FLAX
Flax is a wonderful source of omega 3's which are anti-inflammatory, but unfortunately once ground, flax goes rancid very quickly. Rancid fats cause oxidation of cells leading to free radicals and early cell death.
This is why we use chia instead of flax in our formula.
CONTAINS TRACE MINERALS
Because this is a whole-foods based feed, we are not adding isolated nutrients. This feed contains many trace minerals, not found in traditional feeds, which are important for optimal cellular functioning.
CONTAINS CHIA SEEDS
Chia is an ancient superfood, extremely rich in Omega 3's, protein, anti-oxidants, as well as many other nutrients such as calcium, manganese and phosphorus. In addition to its high nutrient value, chia aids in digestion, stabilizes blood sugar levels and boosts energy and stamina. Chia has a long shelf life, over 10 times that of flax, and unlike flax does not need to be ground to be digested.
CONTAINS HERBS
Horses naturally graze on certain herbs such as dandelion. These herbs provide them with additional nutrients and contain medicinal qualities such as strengthening liver function and alleviating digestive upset and achy joints
---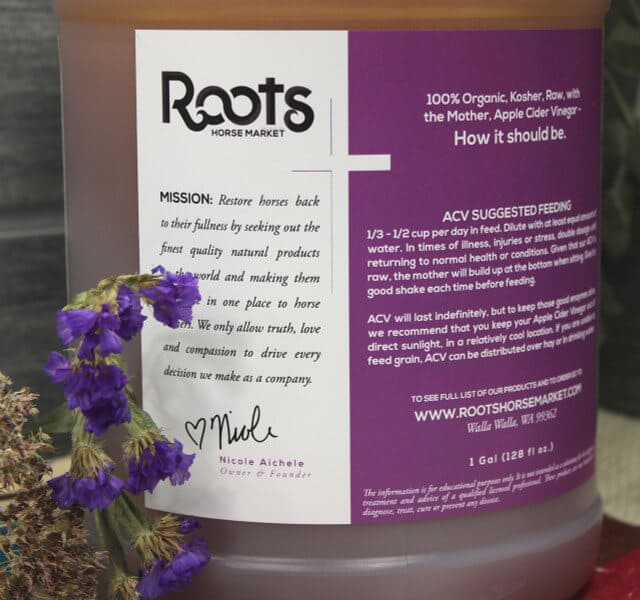 $25.00
Organic, Raw & Undiluted Apple Cider Vinegar
Raw, Organic, Kosher, Pure and Undiluted, with the Mother - this is the highest quality, most pure ACV you will find on the market. No water added to dilute for the upmost potency. Roots ACV is full of vitamins and minerals, particularly high in potassium which may help soft tissue development. Simple, natural and chemical free, vinegar also contains valuable organic acids and has astringent properties. Best of all, it is palatable to horses - potentially due to the similarities in eating fermented windfall apples in the wild. Feed 1/2 cup 1x daily with at least equal parts water over feed for daily maintenance. In times of sickness or if improvement not noticed in 3 weeks, increase dose to 1 cup per day until results are noticed. Can also be added to water and over hay.

One gallon at the 1/2 cup daily dose will last approximately 30 days.
Note: Best to order in quantities of 4 for shipping.
*The information on this website is presented for educational purposes only. It is not intended as a substitute for the diagnosis, treatment and advice of a qualified licensed professional. Throughout this website, statements are made pertaining to the properties and/or functions of nutritional products. These statements have not been evaluated by the Food and Drug Administration and these materials and products are not intended to diagnose, treat, cure or prevent any disease.*
About
Roots Horse Market is a homegrown company out of Walla Walla, Washington. Started by Professional Barrel Racer and Horse Lover, Nicole Kallstrom (Aichele), Roots was originally started as a means to get high quality and organic feed and Apple Cider Vinegar to her mare, Blondie, as she was declining in health after a surgery and the vets were unable to help or decipher the attack on her body.
After many prayers (and tears) over Blondie's attack on her body and joints, Apple Cider Vinegar and Wild Fed Horse Feed were the answer to Nicole's prayers and to Blondie's needs. In 3 short weeks, Nicole and her family witnessed nothing short of a miracle when after 9 months on a decline, they finally saw significant improvement in Blondie's weight, attitude, movement and inflamed joint size.
Of course, not being able to feed goodness to only one horse, Nicole's whole herd was given this feed regimen and also witnessed amazing results. This sparked a journey to find the best equine products on the market and offer them in one place. Best, is not defined by industry trends or retail value. Best is rather described by whole foods, organic products as much as possible, utilizing herbs and their nutrients, non-gmo, and nutritionally balanced formulas to assist the body to work as it was created.
What is Roots Horse Market's ultimate goal and driving force? It can be summed up in a few verses.
Job 39:19-25
From the Lord's Mouth:
"Have you given the horse strength?
Have you clothed his neck with thunder?
Can you frighten him like a locust?
His majestic snorting strikes terror.
He paws in the valley, and rejoices in strength;
He gallops into the clash of arms.
He mocks at fear, and is not frightened;
Nor does he turn back from the sword.
The quiver rattles against him,
The glittering spear and javelin.
He devours the distance with fierceness and rage;
Nor does he come to a halt because the trumpet sounded.
At the blast of the trumpet he says, 'Aha!'
He smells the battle from afar,
The thunder of captains and shouting."
The Creator of the Universe, is also the Creator of us and our horses. Wouldn't it make most sense if we went to the One who fashioned every piece of our horses for help and wisdom on how to care for them? This of course, requires us to look past every single "new" and popular ideas and instead go straight to the Root of all of our struggles. To the Creator Himself and look to how He created us to eat, be and do.
This is Roots.